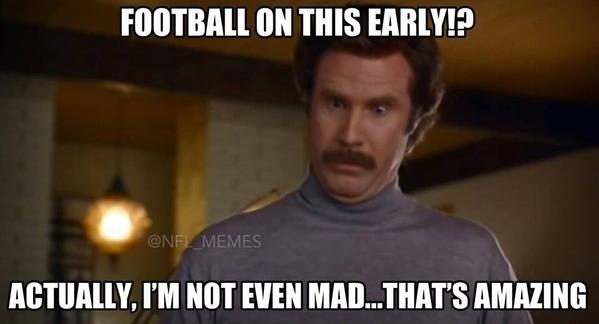 Week 9! I can't hardly wait! First though, a very small recap of week 8.
Week 8 had entirely too much football on Sunday. Waking up to a Lions game at the brink of dawn on the west coast was a bit daunting. However, it wasn't as daunting as watching the Falcons blow at 21-0 lead at the half. It was mind-numbing to watch a missed field goal by Prater, turn into a delay of game penalty (replay shows time did not, in fact, expire), and ultimately a game winning field goal. I needed the Lions to lose that game. The Lions were graciously complying with my request until the Falcons and the refs decided to actively participate in helping the Lions win. The Lions fan base thanks you.
Atlanta Falcons coach, Mike Smith, it was nice seeing you on the sidelines, but your days are numbered. You deserve to be fired. I'm not even a Falcons fan, but that shit was crazy.
Don't be worried though, you won't be alone. Sexy-Rexy will be your new best bud as you two watch next season from your seats at the bar, and not the sidelines.
Then there is everyone's favorite lost soul. Oh, Jay Cutler. The best thing to happen to the GBP.
Thank you for being you, Jay cutler. Thank you.
Now on to week 9.
What a week it will be. It seems the entire NFC North division (save for the Vikings, but we all know that they don't count) is on hiatus this week. I'm thankful for this as it gives me a bit of a reprieve. I needed a mental rest from the absurdity of some of these Lions wins as of late. Plus Green Bay's offense needs the rest if they are going to have to keep putting up massive amounts of points to counter what our defense keeps giving up.
Saints (3-4) at Panthers (3-4-1): I love that this division is still wide open because they all have shitty, shitty records. All the teams in the NFC South should be better than they are, well, except for the Buccaneers. The Bucs are really just that bad. The Panthers, Saints, and Falcons show glimpses of being good from time-to-time and it makes us want to believe they can be winners — but they just aren't.
Saints beating up on the Packers? Don't get too excited Saints.
We had the second to worst run defense, and now, thanks to you guys, we have the worst. Our defense couldn't stop my 4-year-old niece if she ran the ball toward the end zone — even when she stops to pick some of the grass. We had some monumental bad play calling. Davante Adams, while getting in the mix, had a bad turnover when he just flat out stopped running his route.
What I'm saying is, while the Saints looked good Sunday night, there is a reason they have a 3-4 record. The Saints have all four losses when they don't play in their dome. Well, welcome to Carolina.
Cardinals (6-1) at Cowboys (6-2):
Ha ha Cowboys! You lost to Washington!
However, Cowboys will be going to the playoffs because have you seen their schedule! It's so ridiculously easy they would have to seriously fuck up to not go 6-2 for the rest of the season.
I wonder how the Cowboys will play against a legitimate team, like the Cardinals? It will be interesting to watch.
And watch I will. It's time I start checking out this Arizona team.
Broncos (6-1) at Patriots (6-2):
The hype of the Peyton vs Brady game will be overwhelming. Enough already. This game is legitimate on its own merits. Two great coaches in John Fox and Belichick. Two great quarterbacks, no matter what those morons said about Brady in the beginning of the season.
I'm honestly excited for this game.
Ravens (5-3) at Steelers (5-3):
When did the Steelers get a 5-3 record? I feel like the Steelers cheated on some test. There is no way this team has a 5-3 record. Division match. A game from a gone era. Still completely watchable.
On a side note, I think there needs to be a shout-out to my favorite defensive coordinator Dom Capers! Congratulations! You now are in charge of the worst run defense in the league! How does it feel to be the main reason the Packers are losing games! Hats off to you, sir, hats off to you.
*This blog is made possible thanks to two great coupons. One is 4inkjets coupon which will get you inkjets for less. The second is a Moosejaw coupon which will get you some great gear and clothes.
Madeline Fresco is a novelist who lives in San Francisco. She is the author of CROSSED THE LINE, available for Kindle at Amazon.com, for Nook at Barnes & Noble, and as an ePub at other eBook retailers. You can also listen to her novel as a free, serialized audiobook at madelinefresco.com. Her second book THE CHOICE, is available on Kindle at Amazon. Her third book ANGUISH, is available for Kindle at Amazon.com