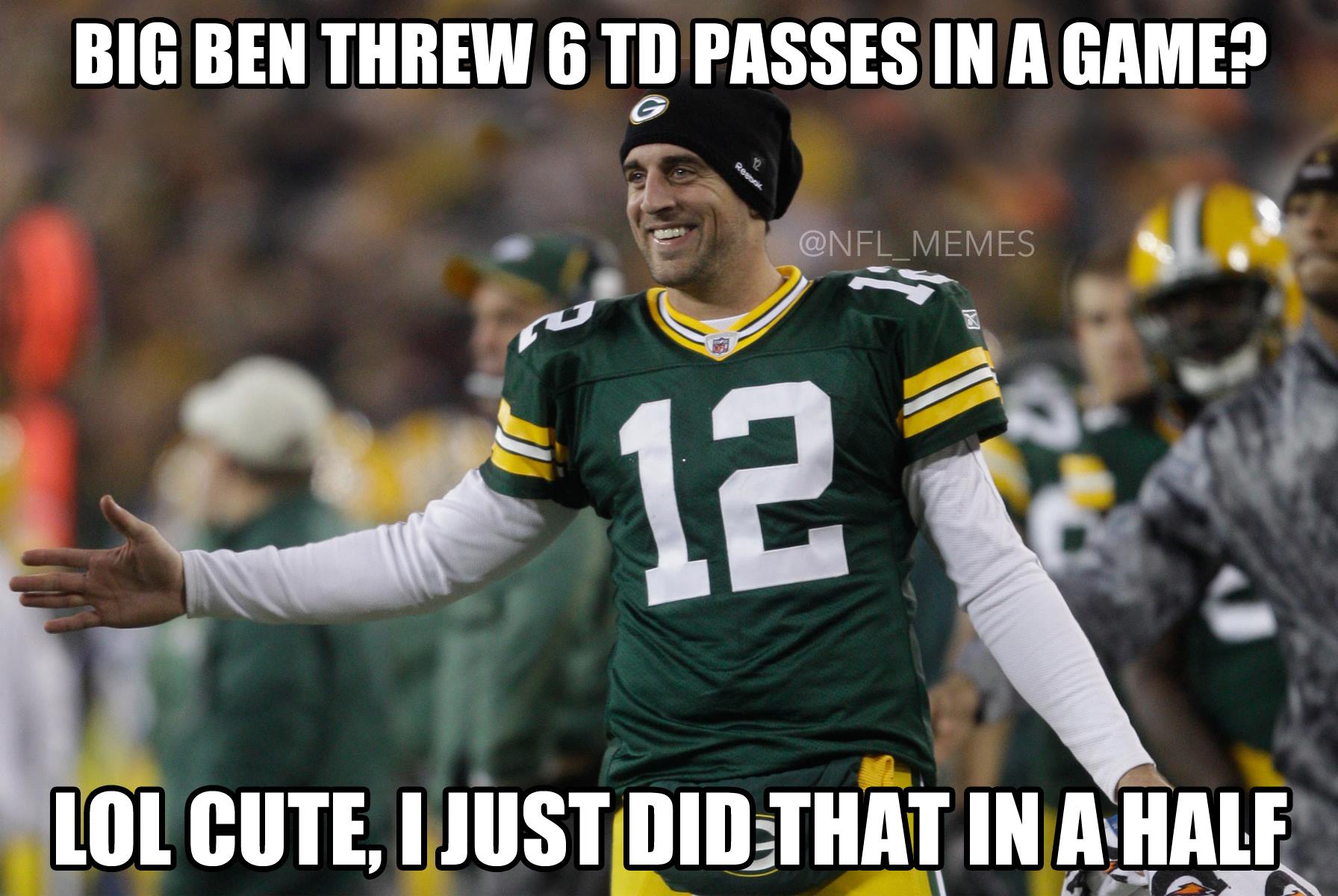 Week 10 had some amazing outcomes! Teams won, and lost, in spectacular fashion. Some, like my Green Bay Packers, demolished a terrible Bears team that, at one point, just started to make everyone uneasy — much like the Eagles over the Panthers. Congrats to the NFL for another shitty Monday Night Football game. Lions are annoying us GBP fans by continually winning games this year in the final moments of the game that the Lions of yesteryear would have lost. Steelers keep doing there wow yay (!) and wow huh (?) routine — winning by huge numbers against the Colts (score 51-34) and Ravens (score 43-23), then losing to the Jets (score 13-20)? The Jets? A 1-8, now 2-8 team? Saints versus Niners did not end the way I wanted it to, and that absolutely pisses me off. Drew Brees was not making the best decisions during that game, at one point throwing into triple coverage. Drew, baby, you're not 24 anymore. You may have, I know this is hard to hear, lost a little, a little … not much! But, buddy, we all get older, we all lose a step or two. You gotta adjust. You're still great! Just … adjust my friend.
Now, week 11. What games should you watch?
There are some big games this week:
Buffalo Bills (5-4) at Miami Dolphins (5-4): Big division game. Yes the Patriots lead the AFC East division at 7-2, but the wildcard seems to be wide open. There is still a lot of season left to be played, and no one can tell the future. Just ask the Patriots at the beginning of the season when they were supposedly finished. The Chiefs, Brown, and Bengals are all over the place with who they beat and who they don't. Therefore, big game for both Buffalo and Miami. Miami's loses were really, really close games.  The games against the Lions and the Packers especially. If the Dolphins can just tweak their play a little bit, they could be in the playoffs.
Also, I'm kind of loving Tannehill. Did you see him chase down the Lions after the interception? Yeah, I know, he threw an interception, but that kid has some wheels .. and some guts! He was a total baller on the play. Too bad he is going into the divisional game with a bad knee and shoulder. Get well, Tannehill, I like what I'm seeing.
However, I can only care about this game so much as I don't get NFL Network.
Lions (7-2) at Cardinals (8-1): Why, oh why Carson Palmer did you have to get hurt! I'm still a girl, and it makes me happy that so many fans, even Settle and Niners, are wishing him well. Too often fans get kind of ugly when it comes to injuries. Great job fans. Plus, it's a testament to how much everyone likes Carson Palmer. Good guy.
I'm a little worried about poor Drew Stanton against big, bad, awesome Suh. Suh has cleaned up his act this year and it shows. The decrease in Suh's penalties have really helped his team. The team overall has fewer penalties, which has led to more wins. This Lions defense is very, very good. It's ranked number one. Last week's win against the Dolphins was a statement win. Before that, the Lions had only played one team with a winning record. The win over the Dolphins proved the Lions legitimacy. Now, with two more games to go in the hard stretch of their schedule, they need to eek out another win. I believe a win against the Cardinals is much more likely that against the Patriots. Let's see how they do.
On a personal note, please, please, please Arizona win this game!
Eagles (7-2) at Packers (6-3): Big favor request here, can the Eagles be tired from the Monday night game? I guess that's a fool's wish as how could they be? The game was too easy against the Panthers.
Green Bay's defense sucks. Don't let the game against the Bears fool you. The Bears are terrible. We have not fixed our defense yet. An explosive team in the Philadelphia Eagles could really have their way with us. LeSean McCoy could have a huge game against us. Also, our special teams is also terrible. Please Green Bay, do NOT kick it to Darren Sproles. Just don't. Honestly, are you listening? Just DO. NOT. DO.IT.
Hopefully Mark Sanchez is too full of all that Philly Cheesesteak to move well in the pocket and Clay Matthews and Julius Peppers can have a huge day against the quarterback.
On our offense, we really need to get our run game going. We need to keep a high-powered offense like the Eagles off the field. Eddie Lacy seems to be having trouble this season. I don't know if the offensive line isn't creating enough holes for him, if Eddie is being too patient for holes to open up or what? He just seems to get stuffed real fast.
In my opinion, if Eddie Lacy can get the run game going, and our defense can stop the Eagles run game, Packers win.
This is a must win for both teams, as the Lions (7-2) and the Cowboys (7-3) are ahead in each respective division. Green Bay is only one game behind, but can not afford to be two. I know, obviously, but still. As of right now, the season really could come down to the last game for the Lions and Packers, as they play each other the final game of the season at Lambeau. What absolute craziness. As for the Eagles, they are neck-and-neck. This year, i would not want to leave my chances up to the wildcard in the NFC. The NFC is a madhouse this year.
Finally, wow. What another spectacularly bad MNF game. Steelers (6-4) at Titans (2-7). Who scheduled these games?
Savings this week are 4inkjets coupon for 10% off inkjets and a Moosejaw coupon. Get yourself something nice for the holiday season.
~Madeline Fresco is a novelist who lives in San Francisco. She is the author of CROSSED THE LINE, available for Kindle at Amazon.com, for Nook at Barnes & Noble, and as an ePub at other eBook retailers. You can also listen to her novel as a free, serialized audiobook at madelinefresco.com. Her second book THE CHOICE, is available on Kindle at Amazon. Her third book ANGUISH, is available for Kindle at Amazon.com